Letter from the Rector
The Vicarage, 1st May 2022
Dear friends,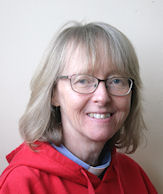 We've just got back from a week away in London, staying at Crystal Palace and commuting into central London every day on the number 3 bus, which was very cheap and very efficient. I love being in London for lots of reasons – maybe it's because I'm a Londoner! One of the things that really strikes me is how small I am (and I don't just mean being short.) I am one of millions of people in the city, nobody knows who I am and I am just a small part of this big dance of people going from A to B, each with their own lives, loves, hopes, dreams and fears. It is so very humbling. It also makes me realise how interconnected that we all are and how small our own little lives can become. We passed people with different colour skin, hair, clothing and many different accents, different faiths, different ages, some on holiday like us and some living and working there. It really felt like being part of something resplendent, alive and colourful and more importantly something much bigger than just little old me. So often we live in our own little worlds in our own communities and with our small group of friends and never venture outside of that. Which is exactly what Jesus did – He left the security of heaven and came to a world of many people and was part of it. As we head towards a new year with APCM's and new PCC members I urge us all to see this as a new start and to be willing and ready to step outside our comfort zones and step out to where God is at work and beckoning us to join Him. Let's expand our view and see beyond the building and beyond ourselves.
One of the great things we did in London was to see a couple of shows. Thank you, John Parfitt, for recommending Come From Away. The true story of 38 planes landing at Gander Airport in Newfoundland after the 911 terrorist attacks. Gander was a small town of 13,000 people who took in and looked after 7,000 strangers from all over the world plus 19 animals. There were people on those planes from about 100 different countries, all very different. But this town welcomed them all with open arms, fed and cared for them and they quickly become friends. It's a very powerful story, not just because it is true, but because it speaks of the power of kindness and of how although we are all different, we can all still be friends and accept and love others. It reminds me of Paul writing in Galatians 3: 28 'There is neither Jew nor Gentile, neither slave nor free, nor is there male and female, for you are all one in Christ Jesus.' It also reminds me of John 3: 16 'For God so loved the world that he gave his one and only Son, that whoever believes in him shall not perish but have eternal life.'
God calls us to reach out to everyone regardless of who they are, what their background is, what they wear or where they live. In the grand scheme of things we are indeed small and insignificant BUT with the Lord we are able to make a difference.
Blessings

Revd Anne Wilkins
---
Click Here - for Stay Connected News, Notices and helpful information
Click Here - For our latest Talks and Sermons