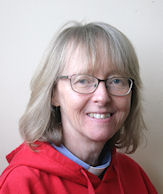 It has been a very strange week and we are living in a very different world it feels. Many of you will have heard the government directive that churches must now close. In the light of this St Mary's and St Augustine's churches will be closed until further notice. We would ask that any key holders do not go into the churches for whatever reason. I will keep an eye on Locking to check the doors are locked and the wardens will check the doors in Hutton. We will not be going in. I know that this will be upsetting to many but we must do as we are instructed. I have often said that the church is not the building but that it is you and I wherever we are. useful things so that you don't feel so isolated.
We have called this sheet 'Stay Connected' as during this time we need to stay connected more than ever. Stay Connected to each other by e-mail, delivered sheets, the phone, skype - whatever works for you. Please email me if you would like a Facetime call. Stay Connected with the Lord every day - and we have much more time to spend with Him now. We have produced services for you to use each day if you wish. Many are lighting a candle every evening at 7pm. Also on a Sunday please join me in lighting a candle at 10am and using the Morning Prayer sheet. It's a way of being together even if we aren't physically.
Thank you to all those who have helped in any way - we can all pray and we can all have a chat with someone. Please do contact me if you need help with shopping etc or you know someone who does. Please be assured of my prayers for you all every day and call me if you want to chat or for a prayer over the phone. I would love to hear from you.
No, in all these things we are more than conquerors through him who loved us. For I am convinced that neither death nor life, neither angels nor demons,either the present nor the future, nor any powers, neither height nor depth, nor anything else in all creation, will be able to separate us from the love of God that is in Christ Jesus our Lord. Romans 8: 37 - 39
With my love and prayers for you all.

See: Morning Prayer Worship from Home
Collect for The Fifth Sunday of Lent:
Most merciful God, who by the death and resurrection of your Son Jesus Christ delivered and saved the world: grant that by faith in him who suffered on the cross we may triumph in the power of his victory; through Jesus Christ your Son our Lord, who is alive and reigns with you, in the unity of the Holy Spirit, one God, now and for ever. Amen
Reading Isaiah 41 v 10 - 13 : which spoke to us this morning bringing comfort and hope which we thought we would like to share with everyone. Love and Blessings. Maggie and Brian.
The VE Day event being organised at the Parish Hall in Locking has been cancelled.
A message from Margaret McNerlin to all on their own.
We've lived through rationing and bombs when they fell.
But were still here, our stories to tell.
But we're still here, our stories to tell.
Loneliness is a killer, so keep it at bay.
Pick up the phone, ring someone today.
To hear their voice, and hear what they say.
Will give them pleasure, and perhaps make their day.
We need interaction, we don't need to touch.
To hear someone's voice, well it matters so much.
Go out in the garden, where there is plenty of space.
I wish you all well. And take heed what I've wrote.
I'm one of the oldies, and in the same boat.
Finances - we kindly ask that you all continue to give to each church as we will have a much reduced income due to lack of fees, collections, fund raising and for Locking centre rent. Even though we are closed the Parish Share, insurance and bills still have to be paid. If any of you feel able to give a little more for this duration then that would be wonderful and a great help. We are just one of thousands of churches who are facing this situation.
Prayer Chain - If you need prayer for yourself or another then there is a team of people ready to pray. For Locking, please contact Christine Sceeny phone 822331 or for Hutton Kay Cole phone 811424 and they will send out the prayer request.
Nature Notes
Many of you know how much I love being out and about nature watching. God's world is amazing and always lifts my spirits, so I have decided to share some of what I see each week: I hope it blesses you too! In Canada Coombe the bluebell leaves are growing well, soon to be joined by the starry wood anemones, while on Windmill Hill the sweet violets have been flowering since January; even their leaves are scented. The blackthorns in the Old Banwell Road hedges are covered in blossom, like a selective dusting of late snow, and last week I saw my first two brimstone butterflies. Hutton churchyard is awash with primroses and the scent from the viburnum in my back garden greets me each time I go out. Walking down Hutton Moor Lane recently three white little egrets flew up together from the marsh, (aka 'Superpond'), and a kestrel was hunting over the remains of the airfield. So much to see, so close to home! What can you see? 'God saw all that He had made, and it was very good'. Gen 1 v 31. Gillian
Foodbank Emergency Box Appeal
It has been a week like no other for all of us and the Foodbank has been stretched to a whole new level. Offers of help are coming all the time but it is very difficult to maximise them at a time where we have to be mindful of avoiding overcrowding and exhaustion. With that in mind I have put together a Foodbank Emergency Box appeal, similar to the well know Shoebox appeal. If your group, business, family or yourself would like to be part of it, please let us know and we will get empty boxes to you (we have several drivers available for drop-offs). What we are asking is that you fill a box or more with either the content of a single box or a family box ready to be collected and then re-despatched directly to our crisis outposts. We have stock to last us for a couple of weeks but if boxes make their way to outposts, it will free our depleted teams to serve the clients at the food bank.
Thank you for your help , Frederique, Foodbank Manager tel: 01934 708906 www.westonsupermare.foodbank.org.uk. As an alternative to the above, any Foodbank donations can be left on the doorstep of John and Margaret Bailey, 31 Willow Drive, Hutton or Chris and Anne Wilkins, The Vicarage, The Green, Locking, where they will be collected and taken to the foodbank.
Lockdown
Yes there is fear.
Yes there is isolation.
Yes there is panic buying.
Yes there is sickness.
Yes there is even death....
But...
They say that in Wuhan after so many years of noise
You can hear the birds again.
They say that after just a few weeks of quiet
The sky is no longer thick with fumes
But blue and grey and clear.
They say that in the streets of Assisi
People are singing to each other
across the empty squares,
keeping their windows open
so that those who are alone
may hear the sounds of family around them.
They say that a hotel in the West of Ireland
Is offering free meals and delivery to the housebound.
Today a young woman I know
is busy spreading fliers with her number
through the neighbourhood
So that the elders may have someone to call on.
Today Churches, Synagogues, Mosques and Temples
are preparing to welcome
and shelter the homeless, the sick, the weary
All over the world people are slowing down and reflecting
All over the world people are looking at their neighbours in a new way
All over the world people are waking up to a new reality
To how big we really are.
To how little control we really have.
To what really matters.
To Love.
So we pray and we remember that...
Yes there is fear.
But there does not have to be hate.
Yes there is isolation.
But there does not have to be loneliness.
Yes there is panic buying.
But there does not have to be meanness.
Yes there is sickness.
But there does not have to be disease of the soul
Yes there is even death.
But there can always be a rebirth of love.
Wake to the choices you make as to how to live now.
Today, breathe.
Listen, behind the factory noises of your panic
The birds are singing again
The sky is clearing,
Spring is coming,
And we are always encompassed by Love.
Open the windows of your soul
And though you may not be able
to touch across the empty square,
Sing.
Psalm 30.5
'Tears may flow in the night, but joy comes in the morning'
Brother Richard, of the Capuchin Franciscans

John 11: 1 - 45 New International Version - UK (NIVUK)
The death of Lazarus
Now a man named Lazarus was ill. He was from Bethany, the village of Mary and her sister Martha. 2 (This Mary, whose brother Lazarus now lay ill, was the same one who poured perfume on the Lord and wiped his feet with her hair.) 3 So the sisters sent word to Jesus, 'Lord, the one you love is ill.'
4 When he heard this, Jesus said, 'This illness will not end in death. No, it is for God's glory so that God's Son may be glorified through it.' 5 Now Jesus loved Martha and her sister and Lazarus. 6 So when he heard that Lazarus was ill, he stayed where he was two more days, 7 and then he said to his disciples, 'Let us go back to Judea.'
8 'But Rabbi,' they said, 'a short while ago the Jews there tried to stone you, and yet you are going back?'
9 Jesus answered, 'Are there not twelve hours of daylight? Anyone who walks in the day-time will not stumble, for they see by this world's light. 10 It is when a person walks at night that they stumble, for they have no light.'
11 After he had said this, he went on to tell them, 'Our friend Lazarus has fallen asleep; but I am going there to wake him up.'
12 His disciples replied, 'Lord, if he sleeps, he will get better.' 13 Jesus had been speaking of his death, but his disciples thought he meant natural sleep.
14 So then he told them plainly, 'Lazarus is dead, 15 and for your sake I am glad I was not there, so that you may believe. But let us go to him.'
16 Then Thomas (also known as Didymus) said to the rest of the disciples, 'Let us also go, that we may die with him.'
Jesus comforts the sisters of Lazarus
17 On his arrival, Jesus found that Lazarus had already been in the tomb for four days. 18 Now Bethany was less than two miles from Jerusalem, 19 and many Jews had come to Martha and Mary to comfort them in the loss of their brother. 20 When Martha heard that Jesus was coming, she went out to meet him, but Mary stayed at home.
21 'Lord,' Martha said to Jesus, 'if you had been here, my brother would not have died. 22 But I know that even now God will give you whatever you ask.'
23 Jesus said to her, 'Your brother will rise again.'
24 Martha answered, 'I know he will rise again in the resurrection at the last day.'
25 Jesus said to her, 'I am the resurrection and the life. The one who believes in me will live, even though they die; 26 and whoever lives by believing in me will never die. Do you believe this?'
27 'Yes, Lord,' she replied, 'I believe that you are the Messiah, the Son of God, who is to come into the world.'
28 After she had said this, she went back and called her sister Mary aside. 'The Teacher is here,' she said, 'and is asking for you.' 29 When Mary heard this, she got up quickly and went to him. 30 Now Jesus had not yet entered the village, but was still at the place where Martha had met him. 31 When the Jews who had been with Mary in the house, comforting her, noticed how quickly she got up and went out, they followed her, supposing she was going to the tomb to mourn there.
32 When Mary reached the place where Jesus was and saw him, she fell at his feet and said, 'Lord, if you had been here, my brother would not have died.'
33 When Jesus saw her weeping, and the Jews who had come along with her also weeping, he was deeply moved in spirit and troubled. 34 'Where have you laid him?' he asked.
'Come and see, Lord,' they replied.
35 Jesus wept.
36 Then the Jews said, 'See how he loved him!'
37 But some of them said, 'Could not he who opened the eyes of the blind man have kept this man from dying?'
Jesus raises Lazarus from the dead
38 Jesus, once more deeply moved, came to the tomb. It was a cave with a stone laid across the entrance. 39 'Take away the stone,' he said.
'But, Lord,' said Martha, the sister of the dead man, 'by this time there is a bad odour, for he has been there four days.'
40 Then Jesus said, 'Did I not tell you that if you believe, you will see the glory of God?'
41 So they took away the stone. Then Jesus looked up and said, 'Father, I thank you that you have heard me. 42 I knew that you always hear me, but I said this for the benefit of the people standing here, that they may believe that you sent me.'
43 When he had said this, Jesus called in a loud voice, 'Lazarus, come out!'

44 The dead man came out, his hands and feet wrapped with strips of linen, and a cloth round his face.
Jesus said to them, 'Take off the grave clothes and let him go.'
45 Therefore many of the Jews who had come to visit Mary, and had seen what Jesus did, believed in him.

God of compassion,
be close to those who are ill, afraid or in isolation.
In their loneliness, be their consolation;
in their anxiety, be their hope;
in their darkness, be their light;
through him who suffered alone on the cross,
but reigns with you in glory,
Jesus Christ our Lord.
Amen.
We are not people of fear:
we are people of courage.
We are not people who protect our own safety:
we are people who protect our neighbours' safety.
We are not people of greed:
we are people of generosity.
We are your people God,
giving and loving,
wherever we are,
whatever it costs
For as long as it takes
wherever you call us.
Barbara Glasson, President of the Methodist Conference